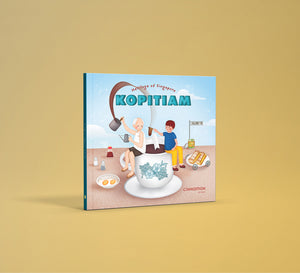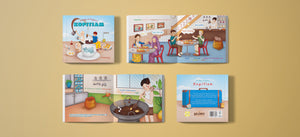 Heritage of Singapore: Kopitiam
Join us as we explore the history and evolution of kopitiam - traditional breakfast culture and coffee shop in Southeast Asia! We walk through a nostalgic part of Singapore's cultural heritage that has been enjoyed by generations of families.
Text by Killiney Kopitiam
Illustrated by Dorothy Go
© Text and Illustrations: Cinnamon Art Publishing
Published by Cinnamon Art Publishing, in collaboration with Killiney Kopitiam
Founded in 1919, Killiney Kopitiam is Singapore's oldest Hainanese coffeeshop. Since its humble beginnings at 67 Killiney Road, the heritage brand has expanded both locally and internationally over the years. Today, the Killiney Group has over 40 outlets worldwide.
Traditionally famous for serving the quintessential Singapore breakfast through its Nanyang-style coffee/tea, half boiled eggs and kaya toast, Killiney outlets now offer an extended menu showcasing a wide variety of local delicacies including Singaporean favourites such as Curry, Laksa, Mee Siam, etc.
Beyond its brick-and-mortar stores, Killiney has also expanded into the FMCG sector to offer authentic and classic Singapore flavours under the same heritage brand. The current food merchandise portfolio includes traditional premium beverages, modern capsule pods, ready-to-cook food pastes as well as frozen and ready-to-heat food products, strongly reflecting the group's mission to combine and provide quality food products with convenience for all to enjoy The Killiney Experience right at the comfort of everyone's home.
Length: 32 pages
Format: Hardback
Language: English
ISBN 978-981-18-3376-2
First published in 2022