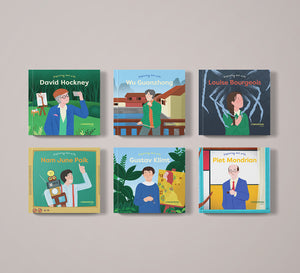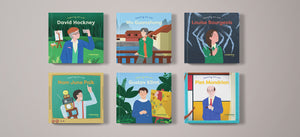 Bundle of 6 - Exploring Art (2021)
The Exploring Art (2021) - Bundle of 6 is perfect as a meaningful reading project, fostering a love for international artists and as a unique gift for a budding young reader.
Each bundle includes:
Exploring Art with David Hockney
Exploring Art with Wu Guanzhong
Exploring Art with Louise Bourgeois
Exploring Art with Nam June Paik
Exploring Art with Gustav Klimt
Exploring Art with Piet Mondrian
The Exploring Art collection invites young readers to open their minds to the depth and breadth of global art history. Each book explores the key concepts of an artist's oeuvre, their inspirations and important artworks. Guiding questions, a glossary, reflections and activity pages encourage conversations between parent and child.
Illustrated by Sienny Septibella
© Text and Illustrations: Cinnamon Art Publishing
Published by Cinnamon Art Publishing
Length: 32 pages
Format: Hardback
Language: English