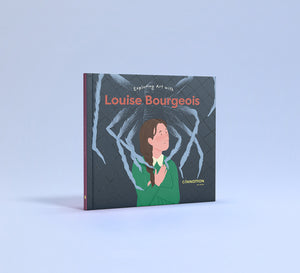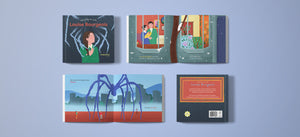 Exploring Art with Louise Bourgeois
A fun and colorful read-aloud book on French-American artist Louise Bourgeois. Exploring Art with Louise Bourgeois uncovers the French-American artist's memories of her childhood through art. We discover the symbolic meaning of Bourgeois's signature spider as we journey through her life.
Complete your collection with the Exploring Art (2021) - Bundle of 6.
The Exploring Art collection invites young readers to open their minds to the depth and breadth of global art history. Each book explores the key concepts of an artist's oeuvre, their inspirations and important artworks. Guiding questions, a glossary, reflections and activity pages encourage conversations between parent and child.
Illustrated by Sienny Septibella
© Text and Illustrations: Cinnamon Art Publishing
Published by Cinnamon Art Publishing
Length: 32 pages
Format: Hardback
Language: English
ISBN 978-981-14-7289-3 
First published in 2021
This book contains original illustrations. No artwork images are reproduced.
This book is not affiliated with The Easton Foundation or Estate of Louise Bourgeois.